●
News
MFC Lamarty in the decor "Chile" in the project "Kvartirny vopros". Airy living room and bedroom in a box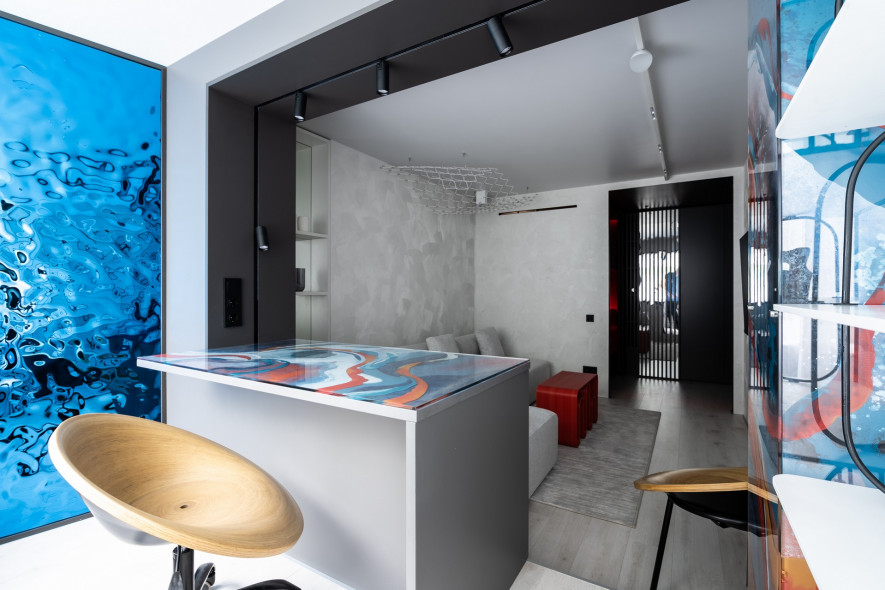 As a result of the transformation of space and competent zoning, a bedroom, a living room, an office and a spacious storage system fit in one room
The main theme of the project was a reference to "movement", which was reflected in the wave-like lamp above the sofa, in the soft panels in the niche with the bed, in the smooth lines of the upholstered furniture, in the print on the tabletop and glass panels, and in the mirrored turquoise wall on the balcony.
Divided a multifunctional living room into zones using color. The walls on the loggia acquired a graphite hue, twilight thickened in the bedroom area - here graphite also appeared on the walls and ceiling, but darker. And the main area of ​​the living room, in contrast to the dark areas, was painted white.
At the entrance to the room, a bed was disguised in a niche. Backstage in the bedroom creates a sliding partition - an ideal solution for zoning living space. Around the perimeter, the sleeping capsule is framed by a soft headboard in rich red color. The bed is adjacent to a spacious wardrobe, which "mimics" along the wall at the entrance to the room, repeating the gloomy shade that surrounded it. The enveloping graphite color of the furniture and walls ensures complete stylistic unity of this part of the room.
Supporting the design of the bedroom alcove, the entire interior of the closet, made of Lamarty chipboard, has become a matching scarlet headboard. The juicy tone of the Chili decor brings lively energy to the interior. Decorating the interior of the furniture in bright colors gives the space a playful mood, while not oversaturating the interior with the active presence of color.
In contrast to the seating area, the main part of the living room remains spacious and bright. Most of it is occupied by a large three-meter sofa - a place where the whole family gathers and communicates with friends. The workplace, equipped on a warmed balcony, faces the main part of the living room. The window sill became the basis of the desk, which was decorated with a glass art object. The same panel is located on the wall adjacent to the table. Another interesting element of the interior appeared on the other wall of the loggia - a steel panel that imitates the water surface shimmering in the sun.
Additional graphic accents to the room are a red coffee table that links to the bright theme of the bedroom and the ball-shaped pillows.
You will find the description and video of the broadcast on the official website of the TV show "Housing issue". Air from 06/17/2023.
Project authors: Yulia Chuprina and Nadezhda Zhuchenko.