●
News
Chipboard Lamarty in the project "Kvartirny vopros". Living room with bathers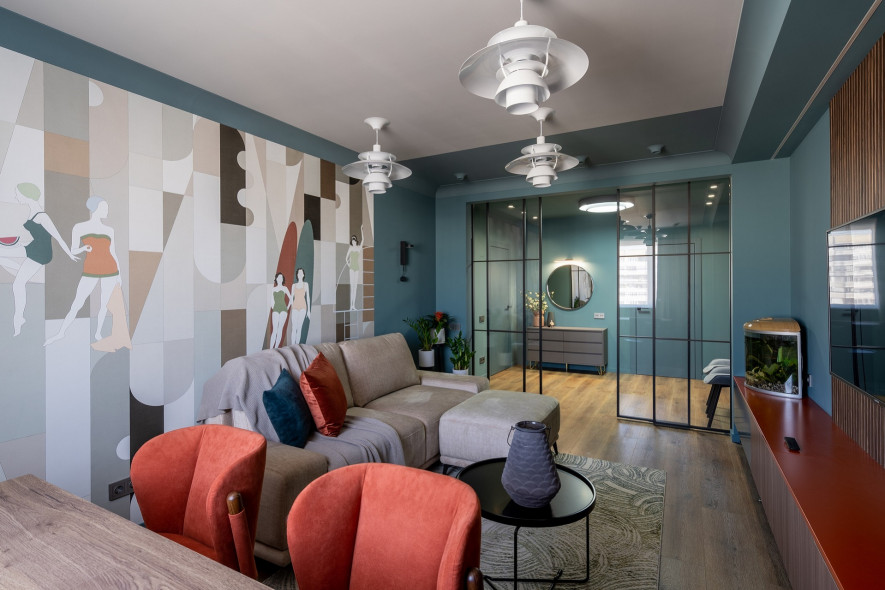 In the project, the most popular room in the apartment, the living room, was transformed. Furniture elements made of laminated chipboard Lamarty in a combination of "Ash-Tree Dark" and "Marengo" decors complemented the image of "Soviet modernism", chosen by the author of the project as the basis for the style of the new interior
Work on the renovation of the living room began with a small redevelopment. A spacious hall was used to increase the area of ​​​​the room. Thus, the living room was divided into two zones: a place for communication and relaxation and a spacious area for a festive dining room. The author of the project emphasized the functionality of the premises with color. The free dining area was highlighted by a dense gray-green hue. In turn, the living room was decorated with rich terracotta color and printed wallpaper with bathers. The panel became not only a veiled reference to the main theme of the project - modernism, but also made it possible to visually change the elongated geometry of the room.
Despite the retro motif of the interior, the filling of the living room is functional and modern. The massive wall was replaced by a light floating storage system flowing into the TV area. Ash-tree dark was chosen as the main tree of the furniture composition - this is the finish in which Lamarty cabinets are made of laminated chipboard. The continuation of the cabinets was a suspended console, the facades of which repeat the color division of the room into zones - the tree borders on an expressive shade of decor Marengo. The showcase for dishes was closed with a glass door, and bright MDF elements became color accents of the roomy "floating" composition.
Sofa with plump pillows opposite the TV panel will provide a comfortable stay. Next to it, near the window, there is a multifunctional table. At normal times, it will take on the role of a study desk or creative space, and when guests arrive, it can be expanded and moved to the dining area, surrounded by chairs, referring to constructivism and avant-garde.
You will find the description and video of the broadcast on the official website of the TV show "Kvartirny Vopros". Air from 05/27/2023.
Project authors: Irina Kartun and Olga Fadeeva.