●
News
Chipboard Lamarty in MUSSON decor in the "Dachny otvet" project on NTV. Kitchen-living room in hygge style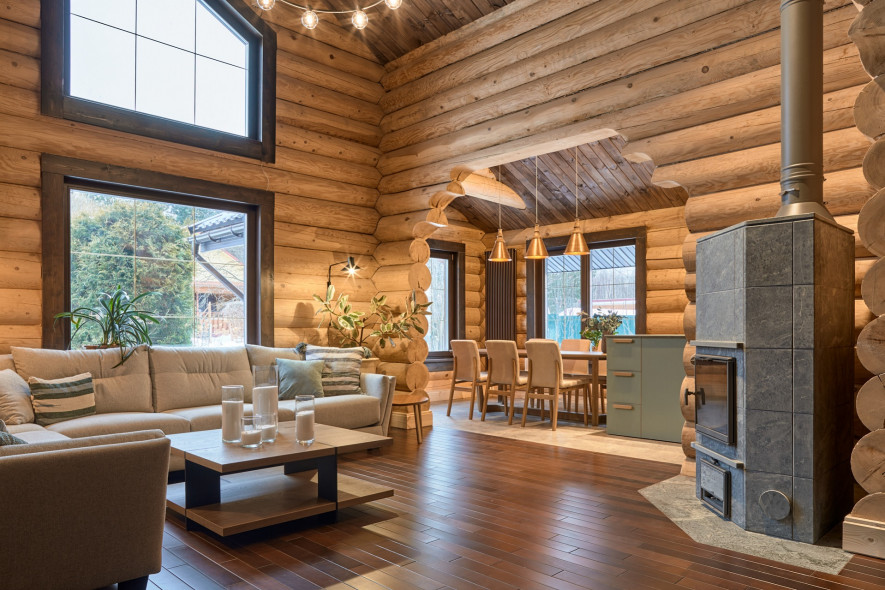 The living room kitchen is filled with unhurried home comfort, which will support the heat of the stove and massive logs
In order to fill the kitchen-living room with happiness, peace and comfort, designer Natalya Prozorova decided to focus on the Scandinavian philosophy of comfort – hygge. The author decided to use the character and warmth of massive logs and embody a retro interior with technological content in the room.
The area of ​​​​space made it possible to place large, maximum possible formats of furniture. Thanks to the dimensional objects, the free space remains clean from small elements and visual debris.. In the living area, a giant corner sofa became the centerpiece. Opposite the relaxation zone, the heart of a wooden house has settled – a stove-fireplace made of volcanic stone. Next to the sofa, under the TV, a veneered chest of drawers with a lattice facade and spacious shelves were installed, on which there was a place for both the player and the owner's record collection.
Kitchen made of Lamarty laminated chipboards has become the only color accent and a corner of modernity. Furniture in «MONSOON» in summer it will organically merge with the view from the window, and in winter it will warm the owners of the interior, associating with warm time of year. Using contrasting wood decor «Gambia» Lamarty furniture edge creates a visual echo with solid oak wood handles and the warm tone of log walls. Despite the relatively small size, there are a lot of storage systems. Next to the main kitchen front is an island that plays the role of an additional work surface and an auxiliary storage system.
Next to the cooking area, there is an impressive dining table in oak veneer under clear lacquer. Hidden in the corner of the kitchen behind the logs is a wooden shelf in a brown shade that can accommodate kitchen accessories, board games and decor.
You will find the description and video of the broadcast on the official website of the TV show "Dachny Otvet". Broadcast from February 05, 2023.
The author of the project: Natalia Prozorova