●
News
Lamarty in GRAPHITE decor and SyPly plywood in the Dachny Otvet project on NTV. Chartreuse for the kitchen-dining room..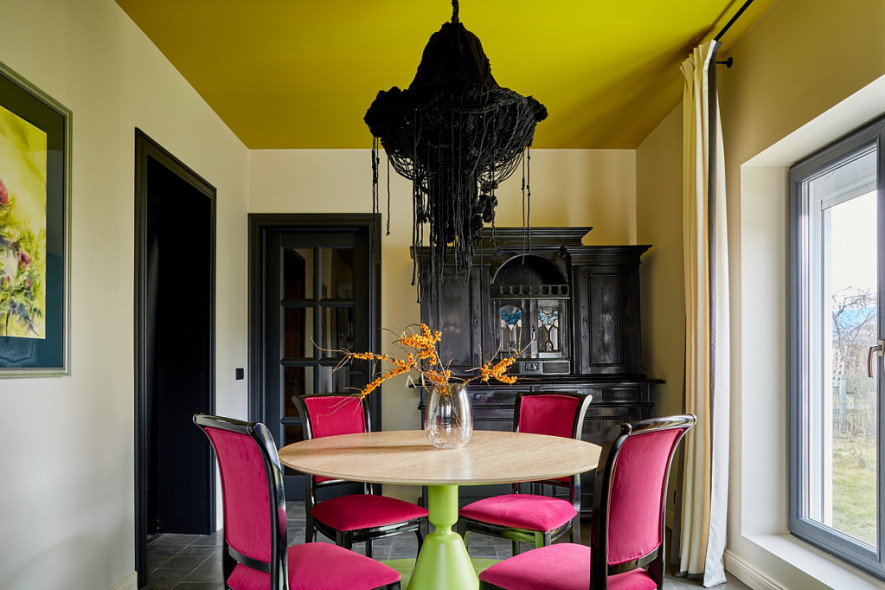 The redesign result was an invigorating and refined interior, the central element of which was the dining room, and the cooking area became almost invisible.
As conceived by the author of the project Irina Raykher the long narrow room had to be turned into a comfortable kitchen-dining room with an invigorating and cheerful shade – a mix of yellow and green colors. For comfort and coziness, the floor in the room was made heated. To do this, a durable sandwich was mounted at the base. Its first layer was sheets of SyPly BIRCH Low construction plywood, which was treated with an antiseptic and covered with dense gypsum fiber boards, on top of which tiles were laid in two colors: gray and in the shade of a liqueur infused with herbs – Chartreuse. A bright circle was laid out in the center, which emphasized the central area of ​​the room – the dining zone. A place of honor in it was taken by a dining table in oak veneer. The round tabletop have perfectly matched the colored circle on the floor tiles as if casting a bright shadow on the floor. The table was accompanied by vintage chairs – an inheritance from the previous owners. The main light and stylistic dominant of the dining group was a large-scale handmade lighting fixture, which took 500 meters of rope to create.
In order for the renovated room to become more of a dining room than a kitchen, the designer decided to disguise the kitchen set. To do this, the end walls of the kitchen columns were covered with mirrored canvases, which made it possible to visually expand the space and bring the working part of the kitchen into the background – now the dining room is the soloist here.And to enhance the effect, the mirror surfaces were illuminated by elegant lamps in glass shades.Cabinet bodies from Lamarty chipboard in an elegant decor "Graphite" lined up along the far wall, forming a symmetrical composition with two columns for built-in appliances. The facades of the lower tier are made of MDF with expressive milling. Hanging modules are hidden behind high columns with built-in appliances, the facades of which are decorated with corrugated tinted glass, which adds lightness to the composition and at the same time hides the contents of the shelves from prying eyes.
A refurbished old sideboard took its rightful place in the renovated space, bringing a touch of exquisite vintage to the interior.
You will find the description and video of the broadcast on the official website of the Dachny Otvet TV show.  Broadcast from 11.12.2022.
Project Author: Irina Raykher