●
News
SyPly plywood and Lamarty laminated chipboard in the White Crystal decor in the Dachny Answer project on the NTV channel. Origami for a bunk nursery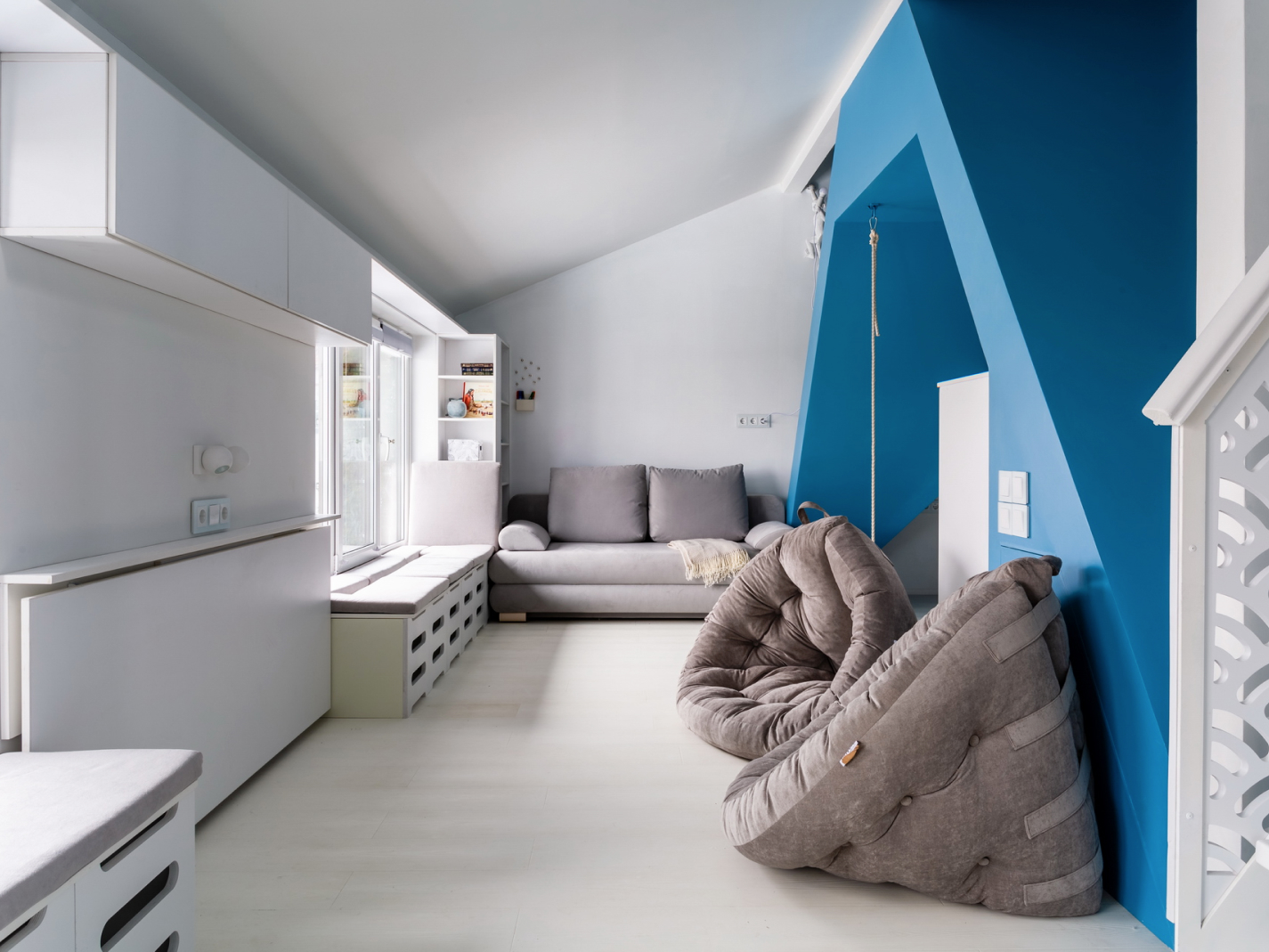 The authors of the project turned for the benefit of the complex geometry of the extension of a country house. The room, consisting of broken lines and protrusions, was turned into a kind of huge paper figurine. A comfortable nursery, a corner for family recreation, a cinema, a climbing wall and a bathroom have appeared on two levels under the slopes.
The TV project team transformed the attic space into a two-story nursery, in which there is a corner for each young hero of the project
To play with the unusual geometry of the space, the builders of Dachny Answer sewn up the slopes and the outer wall of the attic with strong sheets of plywood The material for these purposes was SyPly plywood Plywood from the Syktyvkar Plywood Factory was also laid on the floor, which served as an excellent basis for a coating of laminate and slab boards
For a complete resemblance of the attic to the origami figure, the appropriate color scheme of the room was chosen: all walls, floor, ceiling and furniture are covered in whiteThe accent gray-blue color emphasized the similarity of the lines with the paper figure
Cabinet furniture made of laminated chipboard Lamarty in decor WHITE CRYSTAL according to the sketches of the authors of the project Evgeniya and Maxim Konstantinov Comfortable lockers were installed in the room, in which children can place clothes and toys.A low wardrobe will be comfortable to use even for the smallestKids can get creative at the lift-up writing desk and draw on the marker-coated wallThe continuation of the creative space is the furniture composition, in which it is convenient to store paper, paints and other stationery.
There is a wide window sill under the windows on either side of the desk, which can be used as a sofa thanks to the comfortable pillowsSolid construction and carved radiator shields are made of SyPly plywood A cozy place disposes to rest and reading, and will bear the weight of even an adult
Ornamental intricacy was added to the simple figures of the room with the help of carved handrails on the stairs, made of plywood of the Syktyvkar Plywood Factory The carved drawing was not chosen by chanceThis is a traditional Japanese ornament - wavesA similar patterned milling adorns the cover panel of the second tier.Thanks to this interesting element, the space is filled with a whimsical play of light and shadow.

You will find a description and video of the broadcast of this interior on the official website of the TV show "Dachny Answer" Ether from 05122021
Authors of the project: Konstantinovs Maxim and Eugene