●
News
Syktyvkar plywood factory celebrated professional holiday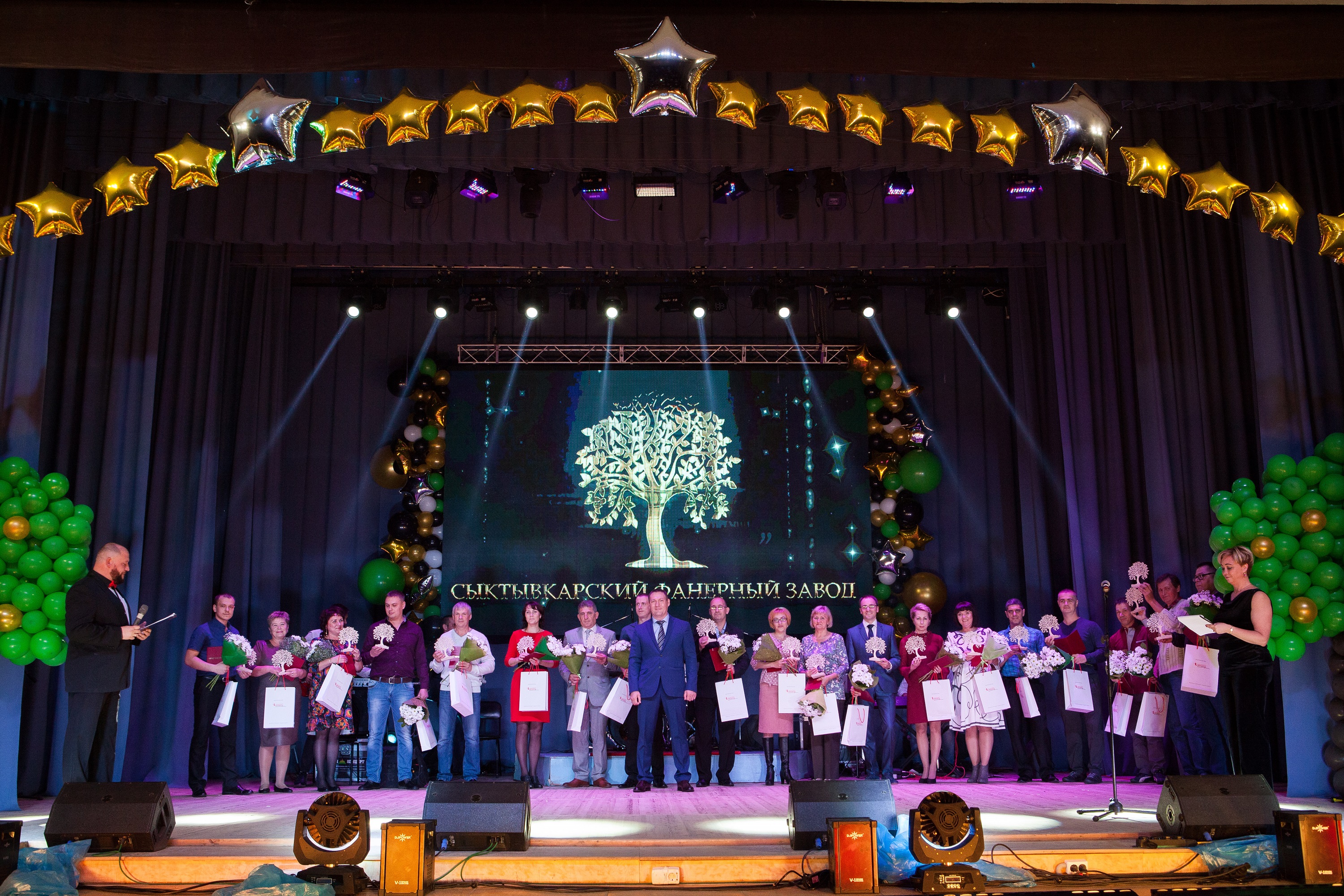 On September 15, in the Palace of Culture of the Papermakers of the Ezhva district of the city of Syktyvkar, the staff of our company celebrated the «Day of Forest Worker».
In honor of this event was organized a gala concert in the style of the Oscar. Traditionally honored the best workers of the plant. About 100 employees of the company were awarded with commemorative figurines, certificates of honor and thanks::
- 16 people were awarded with diplomas of the Administration of Ezhva region;
- Diplomas of MO GO «Syktyvkar» - 15 people;
- Thanks of the Administration of the Syktyvkar Municipal State Educational Establishment – 6 people;
- Diplomas of the Ministry of Investment, Industry and Transport of the Republic of Komi – 15 people;
- Letters of gratitude from the Chairman of the State. Council of the Republic of Komi awarded 2 people.
The title «Veteran of Labor» Syktyvkar Plywood Mill LLC was awarded to 24 employees. Also the title of «Best Mentor» marked by 8 people. This year, 12 photos of the best employees were posted on the Hall of Fame of Syktyvkar Plywood Factory LLC.
On the eve of the ceremonial reception of the Head of the Republic of Komi S.A. Gaplikov our employees were awarded with commendations from the head of the Republic of Komi (2 people) and Diplomas of the Republic of Komi (2 people). For outstanding achievements awarded the honorary title of the "Honored Worker of the Republic of Komi & raquo; Duryagin Valery Fedorovich, leading engineer-technologist of the chipboard workshop. It was the second time in history when an employee of the Syktyvkar plywood factory was awarded this significant award. This time Valery Fyodorovich turned out to be the only representative of the forest industry of the Republic among those awarded.
We are proud of our employees! We appreciate the contribution of everyone to our common cause!